FARM TO TABLE RESTAURANTE
terroir! LOCAL STATION KITCHEN, KM 0, AUTHENTIC ORGANIC PRODUCT
The curtain falls and the tempo slows sequentially... we are surrounded by a barn built from recycled material in the shade of the majestic walnut tree, the wood creaks and bleating and neighing are heard nearby. It smells of hay, alfalfa and spices seeping through the steaming clay oven and stove, lacking in shyness, unleashing its furies in delicate music theory. The senses are heightened. We slide slowly and without worldly haste, through a succession of Simplicity with garnish, Honesty on horseback, Stew of Consciousness, and the sweet Respect for each Food that we produce in La Vigna. Enjoy your meal!
BOOKING
ECO EVENTS + WEDDINGS
A NATURAL ENVIRONMENT for BOUTIQUE events
La Vigna is located in the middle of a rugged landscape, surrounded by majestic trees and an all-enveloping peace. It is a unique environment to enjoy and celebrate life. Small Weddings, Company Events, Family Reunions and Guided Tastings or Pairings. We maintain a friendly essence with the environment, and we follow low environmental impact guidelines. Personalized budgets tailored to each requirement.
BOOKING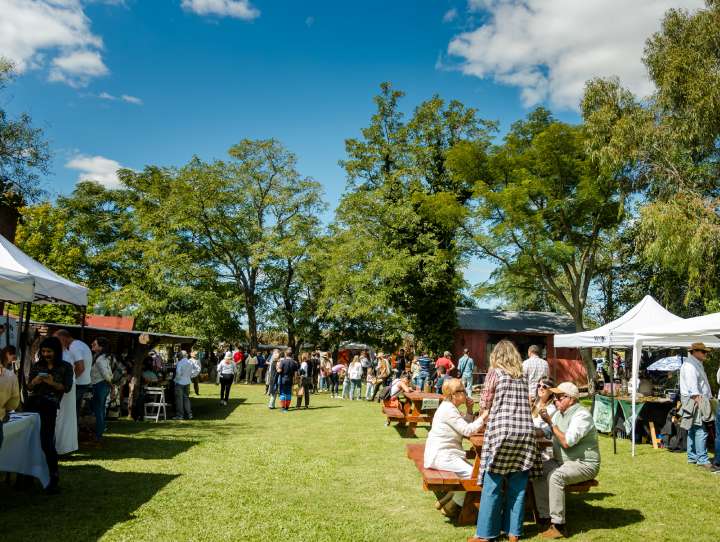 CHEESE FEST INTERNATIONAL
GASTRONOMY, producers, LIVE MUSIC and MUCH CHEESE
Since 2019, La Vigna has hosted the most important cheese event in the country. Declared of government interest, with ministerial and departmental support, each year it grows in quality and quantity of attendees and exhibitors. International pairings, guided tastings, an outdoor beer garden, live music, dozens of stalls and many Latin American cheese shops. Haute cuisine, and the Slowfood Land Market present (like every Saturday at La Vigna).
BOOKING